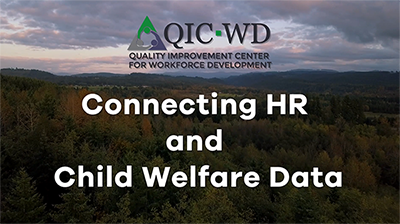 Child welfare and human resources (HR) data need to be connected to answer important workforce questions. This video highlights some of the common challenges when trying to link the two data sets and how the QIC-WD is overcoming those challenges.
 
Recent Blog and News Updates
Twitter
@QICWD / 2 days 5 hours ago
Child welfare workers are on the frontlines working hard for families. Check out this video: The Critical Role of C… https://t.co/ARD9st0Zzc

@QICWD / 2 days 5 hours ago
The work of our partners at @UCLALuskin is featured as a case study on how to Create In-Depth, Interactive Reports… https://t.co/FZy8HCQNWx

@QICWD / 3 days 5 hours ago
"the average number of moves for a child in foster care is over four moves every 1,000 days...and caseworker turnov… https://t.co/pCQRmRl4dO
Our Mission
The Quality Improvement Center for Workforce Development (QIC-WD) is dedicated to understanding how to improve child workforce outcomes. Ultimately, improvements in workforce outcomes can lead to enhanced child and family outcomes for state and tribal child welfare systems.