The Louisiana Department of Children and Family Services redesigned the child welfare worker job to strengthen their workforce and reduce worker turnover. This video discusses the challenges DCFS faced related to turnover and how the job redesign is changing the way they work.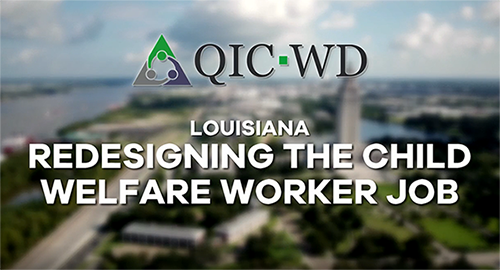 Recent Blog and News Updates
Twitter
@QICWD / 15 hours 3 min ago
Some people take it upon themselves to learn from their colleagues - these are "informal learning behaviors". This… https://t.co/iwsw7j9SjN

@QICWD / 1 day 15 hours ago
Happy Child Welfare Workforce Appreciation Day! The QIC-WD is grateful every day for the compassion, hard work, and… https://t.co/Alv7rCihlg

@QICWD / 3 days 15 hours ago
Check out this video featuring @LouisianaDCFS about their experience redesigning the child welfare worker job and u… https://t.co/x8IZxJgtvJ
Our Mission
The Quality Improvement Center for Workforce Development (QIC-WD) is dedicated to understanding how to improve child workforce outcomes. Ultimately, improvements in workforce outcomes can lead to enhanced child and family outcomes for state and tribal child welfare systems.