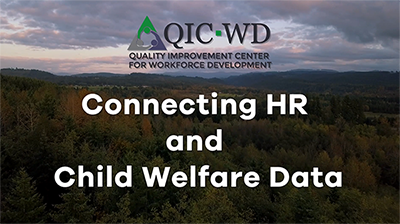 Child welfare and human resources (HR) data need to be connected to answer important workforce questions. This video highlights some of the common challenges when trying to link the two data sets and how the QIC-WD is overcoming those challenges.
 
Recent Blog and News Updates
Twitter
@QICWD / 10 hours 21 min ago
Tomorrow is national Employee Appreciation Day. Showing gratitude can improve the quality of relationships, optimis… https://t.co/c4Gre6glSL

@QICWD / 1 day 10 hours ago
What's on your child welfare workforce learning agenda? https://t.co/L5ZM8N8LNK

@QICWD / 1 day 10 hours ago
The Louisiana implementation team is meeting virtually today to share interim evaluation findings, check in on prog… https://t.co/dWf1JIuqmn
Our Mission
The Quality Improvement Center for Workforce Development (QIC-WD) is dedicated to understanding how to improve child workforce outcomes. Ultimately, improvements in workforce outcomes can lead to enhanced child and family outcomes for state and tribal child welfare systems.