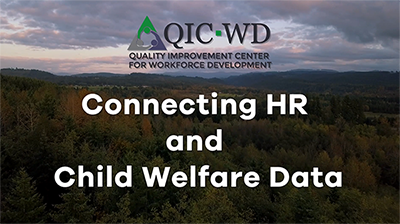 Child welfare and human resources (HR) data need to be connected to answer important workforce questions. This video highlights some of the common challenges when trying to link the two data sets and how the QIC-WD is overcoming those challenges.
 
Recent Blog and News Updates
Twitter
@QICWD / 20 hours 30 min ago
When employees feel that their employer lacks integrity, it can breed organizational cynicism. Read this Umbrella S… https://t.co/hQydTnJ456

@QICWD / 3 days 21 hours ago
In this short video, Dr. Tony Hemmelgarn explains how organizational culture and climate impacts turnover in… https://t.co/JRFIZnOh83

@QICWD / 4 days 20 hours ago
Check out this great article about what Knox County, Ohio is doing to manage secondary traumatic stress among their… https://t.co/LtZKiq19Ae
Our Mission
The Quality Improvement Center for Workforce Development (QIC-WD) is dedicated to understanding how to improve child workforce outcomes. Ultimately, improvements in workforce outcomes can lead to enhanced child and family outcomes for state and tribal child welfare systems.