The Institute 2.0 Kicks Off
There is a ton of data available to child welfare leaders, but it can still be difficult to answer pertinent workforce questions. After years of working with public child welfare agencies to address workforce issues, the QIC-WD, in partnership with the Children's Bureau, created the Child Welfare Workforce Analytics Institute (the Institute). The Institute was designed to help agency leaders better understand the data they have and how best to use it. The Institute 2.0. builds on the resources created in the first Institute to expand one-on-one workforce analytics support to a new group of public child welfare agencies.
Institute 2.0 participants will create a workforce analytics team with representation from child welfare and human resources (HR); participate in a learning community; develop an action plan; and share experiences and lessons learned.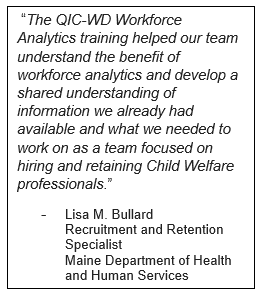 The team structure intentionally provides an opportunity for child welfare leaders to partner with HR to build understanding of data analytics. Challenges cited by jurisdictions in their applications included: limited or no coordination between child welfare and HR, hindering their ability to address workforce issues; difficulty identifying and analyzing data to improve recruitment and retention efforts; and issues related to workforce diversity, equity, and inclusion.
Participating state and county jurisdictions are:
Colorado Department of Human Services and counties (Adams, Arapahoe, Denver, Douglas, Jefferson, and Larimer)
Fairfax County, Virginia Department of Family Services
Indiana Department of Child Services
Monroe County, New York Department of Human Services, Child and Family Services Division
South Dakota Department of Social Services
Texas Department of Family and Protective Services
Washington State Department of Children, Youth, and Families
Institute 2.0 jurisdictions will participate in multiple webinars and receive customized support from QIC-WD team members. One goal of the Institute is to build agency capacity to use HR data to address child welfare workforce challenges. This year there will be special emphasis on how data can be used to address questions about diversity, equity, and inclusion (DEI) in the workforce. DEI, in addition to the "Great Resignation," are significant challenges facing child welfare leaders. We believe that the Institute 2.0 will provide participating jurisdictions with the tools they need to address the workforce challenges currently facing their agency and help them build relationships within their agency to use their data to address future workforce issues.