How Can You Better Collect and Organize Data to Support Visualization?
Collect data at the lowest level of granularity as possible
Determine how data elements are collected and are related to each other
Understand who and how institutional data is currently governed
Map changes to data elements, collection methods, and governance across relevant time periods
Identify opportunities to "close" open text elements
What Visual Is Most Appropriate for Your Data?
Understanding how your data is structured can eliminate certain design options.
Interactive version @ https://ft-interactive.github.io/visual-vocabulary/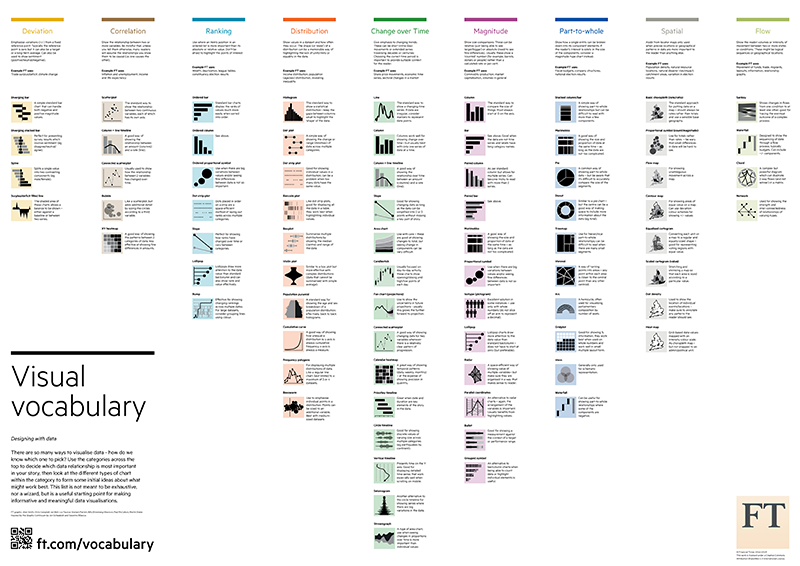 How Can You Develop Visualizations That Respect Visual Perception of Information?
Design Objectives
Accurate representation
Facilitates accurate and quick understanding
Memorable
Appropriate amount of data/context

 

Orientation

Shape/Symbols

Line length

 Line width

Size

​

Hue

Tint – amount of white

Shade - amount of black

Colorfulness as compared to gray

Saturation/Brightness –
amount of gray

 

Curvature

Enclosure

Spatial position

Motion

Texture
Selecting Color Palette
Color-blind
Perceptual ordering/categories
Captures nuances of variations
Conveys gradients
Displays uncertainty when relevant
Works across mediums


Focusing Intended Users' Focus
Understand what your end-users will focus their attention on based on their role, interest, expertise, and familiarity with data and relevant issues.
Every element you add to the page or screen takes up a cognitive load on the end-user
Does your design reflect what areas you want the end-user to focus their attention
How Should You Start?
Tools & Platforms
For more information on this topic, read our blog post.