Ohio Selects and Begins Installation of a Workforce Intervention: Coach Ohio: Promoting Resilience and Optimism
Posted on
November 8, 2018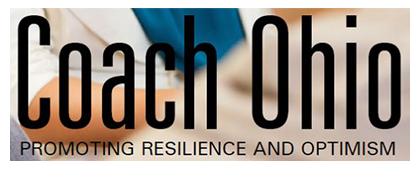 Ohio is committed to improving outcomes for children and families. Strengthening the child welfare workforce is an essential component for improving these outcomes. To this end, the Ohio Department of Job and Family Services (ODJFS) partnered with eight public children services agencies; Champaign, Crawford, Hamilton, Knox, Montgomery, Summit, Trumbull, and Wayne, to become one of eight national project sites to test child welfare workforce interventions through the Quality Improvement Center for Workforce Development (QIC-WD).  
Earlier this year, the Ohio site conducted a workforce assessment that revealed 48% of Ohio's participating child welfare caseworkers experienced at least one symptom of secondary trauma. In addition to secondary trauma, results indicated high staff burnout and lack of engagement are major contributors to Ohio workforce challenges. Furthermore, staff are stressed by the traumatic experiences encountered during their daily work with children and families.  Supervisors can play a key role in helping staff debrief these traumatic experiences and manage the stress of the work through supportive supervision.
Ohio decided to implement Coach Ohio; a supportive supervision intervention that pairs the Resilience Alliance (RA) strategy with the Atlantic Coast Child Welfare Implementation Center (ACCWIC) Coaching model.  Supervisors will utilize Coach Ohio to help staff prevent and mitigate the effects of burnout, secondary trauma, employee disengagement and disengagement from families and children served.  
The desired outcomes of Coach Ohio are:
Supervisors engage in supporting, recognizing, and empowering behaviors
Staff acquire enhanced skills of reflection, emotional regulation, coping, social support and client engagement
Staff feel less stressed, less traumatized and have a high-quality relationship with supervisor
Staff have increased job satisfaction and intentions to stay with the agency
Staff are retained longer
Staff focus less on their own emotional distress and feel more compassionate and empathetic towards families and children served
Families and children are more responsive and less resistant in interactions with staff
Staff see better child and family outcomes such as safety, permanency and well-being
To achieve these outcomes, the intervention will require all agency administrators, middle managers and caseworkers to complete 24 weeks of facilitated RA group sessions. Between sessions, supervisors will use coaching to encourage caseworkers to practice newly learned RA skills.
Initial implementation will begin during Spring 2019 followed by full implementation during Summer 2019. The implementation lessons learned and evaluation of the Coach Ohio model will provide insight on the additional use of supportive supervision to improve the child welfare workforce statewide.